The smart buyer's guide to flash
Packed with insights & tips for reducing costs, prioritising performance and future-proofing your business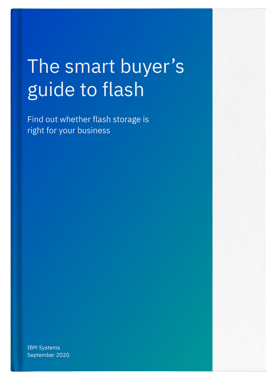 With the integration of new technologies, your approach to storage is critical. How can you figure out which flash storage solution works best with the infrastructure you have and fits your hybrid cloud strategy and budget – now and in the future?
Download The smart buyer's guide to flash to find out how you can deliver more with less budget and optimise your IT infrastructure to drive growth without sacrificing the performance, quality, or security of your IT services.
In this handy guide, you will find key information and answers to common questions about flash storage so that you can make the best possible decision for your business. It comes packed with smart tips involving:

COSTS
Limited budgets and pressure to optimise resources are major decision-making factors so you need to get the most value from your next storage solution.

PERFORMANCE
Meet demands and effectively manage the increasing volume of data flowing into your business with fast, flexible and efficient storage.



SECURITY
Make sure your data is available and encrypted and that your organisation is 100% compliant, especially as you transition to a hybrid multicloud environment.

FLEXIBILITY
Enjoy the flexibility to deploy your apps and data where it makes the most sense and a consistent experience across hybrid cloud deployments.